Nail design
A professional nail design is a great idea for specific occasions or whenever you wish to treat yourself or a loved one to something special. At our beauty and nail studio we offer high-quality nail designs, looks that make your heart jump. Our services cover new models French style, color or glitter nails and their replenishment, up to natural nail reinforcement.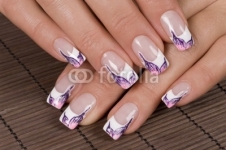 We also gladly design a range of decorative nails, utilizing stamping art, hand painted drawings, rhinestone art, Swarovski stones, as well as stickers and tattoos.
If you have very specific desires, simply approach us and we will find a suitable solution!
We make your nails even more beautiful! Give us a call and make an appointment!